Professional Continuing Education
Check back soon for
2020 Workshop Schedules
Venue: Advanced Massage Therapeutics
2221 Goldsmith Lane
Louisville, KY 40218
2019 Workshop Schedule
May 31-June 2    |    Trigger Point Therapy - UPPER Body Workshop (20 hours)         
Aug 28-Sept 1   |    Trigger Point Therapy - Whole Body Workshop (36 hours)
Oct 11-13   |    Trigger Point Therapy – Lower Body Workshop (20 hours)
Nov 23-24   |    To the Point! Essential Trigger Points for Massage Therapists (14 hours)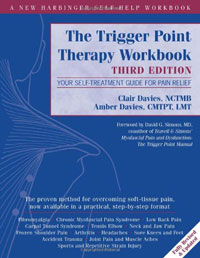 Based on international best-selling Trigger Point Therapy Workbook by Clair and Amber Davies. Amber herself leads the workshops.
Trigger Point Therapy Workshops - Overview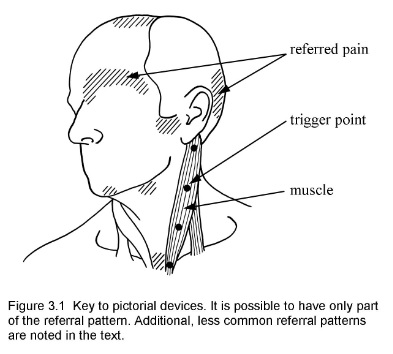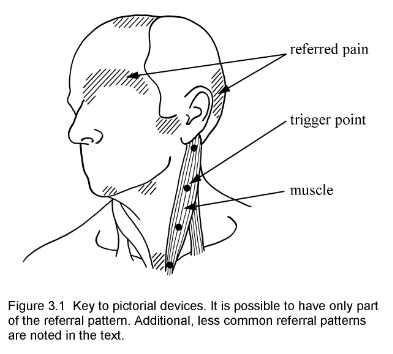 The problem is not in the place that hurts. Trigger points refer pain and create mechanical dysfunction that causes pain far from the site of the real problem. Add more certainty to your toolbox of skills with this class on trigger point location, palpation and problem-solving.
Learn to spot trigger point referred pain and mechanical dysfunction patterns. Using trigger point charts, simple range of motion testing and basic standing postural assessment you will be able to better evaluate a client's specific problem and to understand the underlying mechanical dysfunction that creates trigger points.
We will work to figure out the "why" behind the pain and dysfunction. We will practice identifying structural factors, habitual posture, and unconscious habits that feed the dysfunction. Solve recurring problems to get your clients out of chronic pain.
There are many ways to treat a trigger point. If you think it's about how hard to push, you're missing out. We will explore several different manual approaches you can apply in your practice on Monday.
Make your body a learning laboratory. Every trigger point you can find on yourself, you can find on someone else. It is all about body landmarks, soft tissue palpation, and direction of pressure. Using simple self-treatment tools we will find each trigger point on ourselves, so we become more compassionate and detailed in our approach.
End your pain with self-treatment. If you are like the thousands of therapists who have taken our classes in the past, you will find pain relief to your own problems during the class. Practice effective self-treatment that you can do anytime, anywhere.
Therapeutically Delicious. Hands-on practice trades will be "therapeutically delicious" as your trade partner will practice direct verbal communication and observation to assess your personal response to treatment. Appropriate, effective treatment of trigger points can be feather-light of full-on standing on your elbows in someone's back. Treat the individual.  Learn a communication approach created to empower both you and your client. Practice time is detailed, supervised, and memorable. This is trigger point therapy everyone will love.
Instructor Amber Davies CMTPT, LMT
Amber is the co-author of The Trigger Point Therapy Workbook: Your Self-treatment Guide for Pain Relief (3rd edition) with her father, Clair Davies. Their book, in over 20 languages, is used widely around the world as a primary text book for massage therapists and others interested in learning clinical trigger point therapy and self-care. Recommended by physicians, pain clinics, physical therapist, personal trainers, occupation therapists and the masters of muscle therapy: massage therapists. Amber has spent the last 18 years studying, practicing and teaching problem solving massage therapy.
Massage therapists, physical therapists and occupational therapists only please.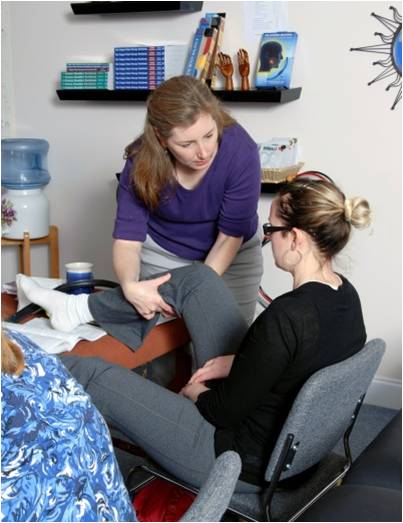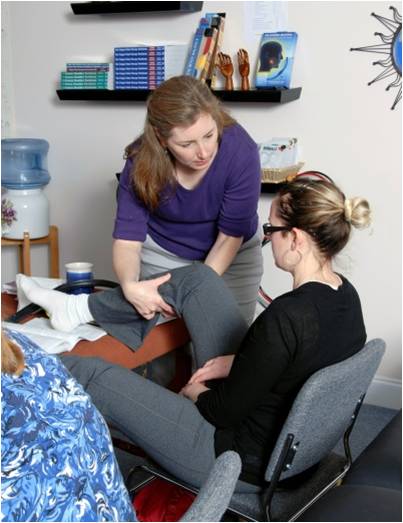 We do not discriminate on the basis of race, color, religion, sex, national origin, physical ability, sexual or gender orientation, or age. Accommodations will be available in accordance with the Americans with Disabilities Act.
Amber Davies is approved by the National Certification Board for Therapeutic Massage and Bodywork (NCBTMB) as a continuing education provider. Attendees will earn CE credits for all classes.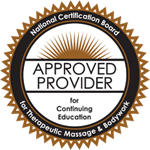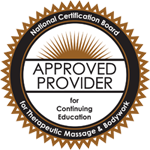 Workshop Participant Testimonials
Amber Davies presents a fully hands-on seminar for manual and massage practitioners interested in mastering location, palpation, and treatment of myofascial trigger points. The problem is not in the place that hurts!